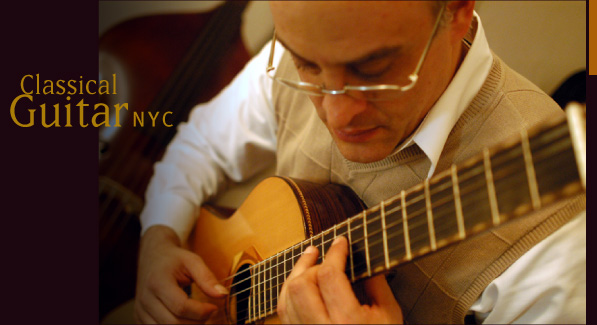 Bookings
Contact Tom by email, phone or text.
Why Classical Guitar?
Planning a wedding reception, company party, or other special event? Live classical guitar will brighten up your occasion giving your guests a truly enjoyable and memorable experience. The guitar is by far the most popular instrument in the world and the classical repertory gives the listener the full spectrum of what the instrument is capable of. With a rich, complex, and beautiful sound, this single instrument speaks directly to the heart and can fill a room with the kind of ambiance needed to make your event a success.
About the Music
The music regularly performed on the instrument is not exclusively from the classical era but also from the Renaissance, Baroque, Classical, Romantic, and Contemporary eras. The guitar is a descendant of the lute and was conceived in the late seventeenth and early eighteenth centuries. While the lute already had a sophisticated technique, the guitar was a new instrument and needed to be developed.
It was really in the Classical era that was the late eighteenth and early nineteenth centuries that the guitar was developed as a concert instrument. Among the most important founding fathers of early guitar technique and repertoire were Fernando Sor (1778-1839), Ferdinando Carulli (1770-1841), and Mauro Giuliani (1780-1829). Each composed studies for the guitar along with a large variety of pieces appropriate for the concert stage. They toured Europe and expanded the audience for the instrument with their virtuosity.
While the guitar was played throughout Europe, it was Spain where it found its true home. Influences of Spain are seen throughout the modern guitar repertoire. This influence continued through the 20th century, where one of the instrument's most famous players, Andres Segovia was born.
There have been many beautiful works composed for the guitar by Robert Schumann (1810-1856), Francisco Tarrega (1852-1909), Joaquin Rodrigo (1901-1999), Agustin Barrios (1885-1944), Heitor Villa Lobos (1887-1959), and many more. Music from non-guitar composers including Johann Sebastian Bach (1650-1750), Isaac Albeniz (1860 -1909), George Frederic Handel (1685-1750), and many other major composers are commonly played by transcribing the music for the guitar.
Contact
Contact Tom by email, phone or text if you would like to discuss bringing music to your event.