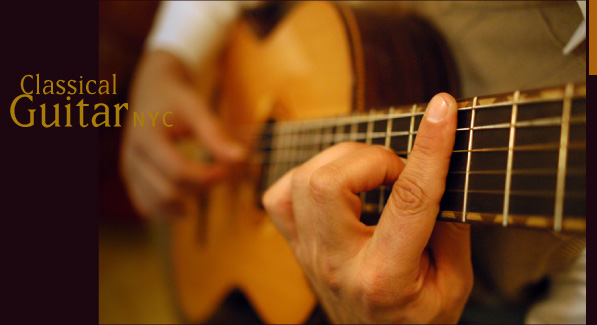 Guitar Lessons
Thomas Furnari is now offering weekly private lessons at his studio Classical Guitar NYC in Queens, NY. Tom also travels to teach in Manhattan and Long Island. Contact Tom by email, phone or text
Tom has been instructing privately for almost 20 years, teaching beginning through advanced students. Lessons stress proper technique, theory, tone production, interpretation, relaxation and repertoire. In addition, Tom stresses developing an efficient and enjoyable practice routine. Students also have access to Tom's extensive music library.

His teaching philosophy blends the best of traditional masters such as Fernando Sor, Francisco Tarrega, Dionisio Aguado and Andres Segovia, with the influence of modern virtuosi such as David Russell, John Williams, Julian Bream, Pepe Romero, James Smith, and Scott Tennant.
All ages, and levels
Current students range from 5 years old to many students in their 70s. Students are taught the necessary skills every musician needs to learn while at the same time being sympathetic to particular musical interests.
Tom considers it his privilege to share in another's musical journey and passion.
Tips for beginning students Here are a list of tips which may be useful to anyone considering taking up the guitar or any musical instrument.
Look for trained instructors
Your instructor should hold a college degree in music performance or pedagogy and have extensive teaching experience.
Private Lessons
Lessons should be private, one-on-one instruction so you will have the undivided attention of your instructor and you can progress at a level suited to your progress. Some schools interested, in making money over musicians, crowd students into "group lessons," where many often flounder. Online lessons can work if both student and teacher are very motivated.
Too young, too old?
Adults can start studying music at any time. Their success is based on how committed they are to practicing. Many successful students have begun in their 60s. Children should be at least age 6 to start guitar.
The proper instrument
Students who wish to learn classical guitar should have or be prepared to obtain a nylon stringed guitar. Many students come to the studio with an acoustic or electric guitar they just bought at a local guitar shop and expect to learn to play in a classical style on it. Unfortunately, the refined techniques of the classical guitar cannot be executed on such instruments. A classical guitarist needs a classical guitar.
The classical guitar has evolved over the last several hundred years, however, it is still relatively undiscovered. The classical guitar is an acoustic instrument but it is constructed differently than the more common acoustic guitar. The classical guitar has nylon strings instead of steel strings, the body is slightly smaller, and the neck is slightly wider.
The main difference in sound is the classical guitar produces warmer, harp-like tones and the acoustic guitar produces a more metallic tone. While the acoustic guitar is commonly used for rhythm or lead, the classical guitar is used for polyphonic music, which contains multiple voices and parts including a bass, melody, and inner voices.
In order to play polyphonic music and produce a good tone, the notes on the classical guitar are played with the fingers of the right hand, never a pick.
While the guitar is one of the easiest instruments to learn the basics, the classical guitar is one of the most difficult to master as a concert instrument.
Buying a classical guitar need not be a great expense. Serviceable beginner guitars can be obtained for as little as $100-$200, though a guitar for a bit more will continue to satisfy a student for years to come. Of course, there is no limit to the price of a fine instrument. Please contact Classical Guitar NYC before you buy a guitar if you have any questions. We will be happy to advise you with no charge or financial interest.
Practice
As with anything, improving in music takes practice. Here are some ways to make practicing easier:
Set the same time every day to practice. This works particularly well for children. Generally the earlier in the day the practicing can occur, the less reminding is required by parents to get the child to practice.

Be sure your instructor uses professional teaching materials. There are some excellent study methods developed by professional music educators. These materials have been researched and are continually upgraded and improved to make learning easier. Practice with a purpose. Don't mindlessly run through your material a set number of times. Listen to yourself and find places that need improvement. Focus on those areas. Music should be something that you enjoy for a lifetime. So, try not to put unrealistic expectations on yourself or your children to learn in a set period of time.
Contact Tom by email, phone or text if you would like to discuss private lessons further.